Results from the student election at UiS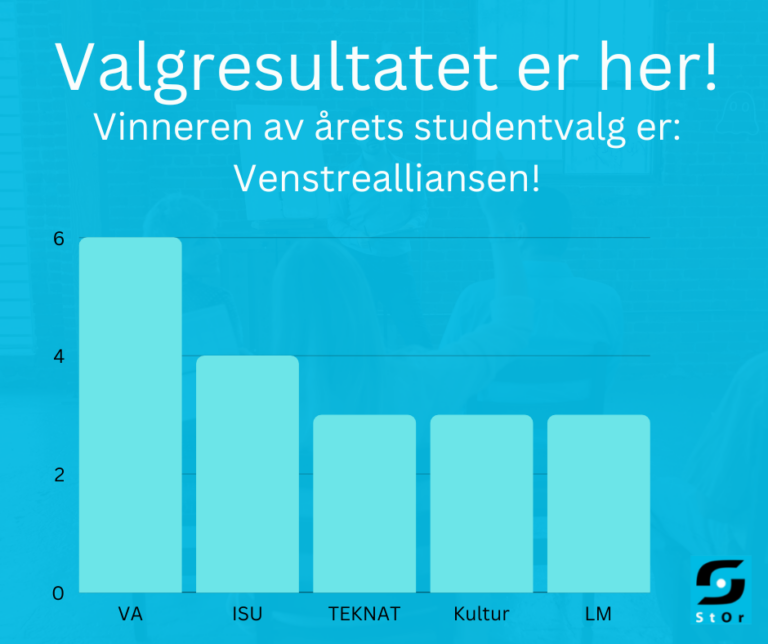 The 2022 student election at the University of Stavanger has now ended. The election lasted from 17-28 October, and decides who will sit in the student parliament. The student parliament consists of 19 student representatives, distributed among different lists. This year we had an increase in the number of lists, and increased activity and commitment from the lists. The lists have been very active during the election period and we greatly appreciate the effort the candidates have made.


This year's student election has had a turnout of 16.14% of the student population. This year's election winner is the Left Alliance (VA) with 26,5% of the total votes. VA gets 6 representatives in the student parliament. Furthermore, we see that there has been a very even election between the remaining lists, with just over 100 votes between 2nd and 5th place. The International Students Union list (ISU) gets 4 representatives, the TekNat list, the Kulturlist and the Liberal moderate list all get 3 representatives each.


Commitment to the lists has been very high throughout the election period. There have been several stands, digital marketing and other activities from the lists. It is impressive to see that VA has made such a good choice this year. This was a new list in our Parliament at the last election, and has clearly pursued a popular policy ever since. We experience VA as a very committed list, and would like to congratulate those who won the election and with two new representatives. Kulturlisten is brand new and represents the students at the Bjergsted campus. Liberal moderate list returns after having a couple of years break. TekNat goes back the most, losing 5 representatives from its 8. ISU also loses 2 representatives.

It is fun to see progress and greater commitment than last year. This indicates that the challenges surrounding covid 19 are beginning to subside. It is especially fun to see that the turnout is set to be the best in Norway, again. The students at UiS show time and time again that they are committed and follow the student policy. We as election officials are very pleased with the result, and are very much looking forward to working with the new parliament!

StOr leader Sara Bianca Beitz is very pleased with the election results. This shows to me that the students we represent are interested in making an impact. I am enormously proud that our figures are constantly highlighted as the best in a national context. It is difficult to get student democracy to engage - but we are well on our way! It is also very pleasing to see that the number is increasing from last year - as a student leader, it is refreshing to have a graph that goes in the right direction, for once. Hello students at UiS!